About James Bishop, Jr.
"My object in living is to unite my avocation and my vocation"
–Robert Frost from "Two Tramps in Mudtime"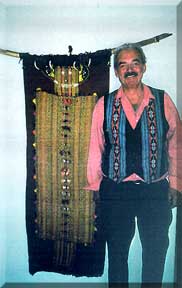 James Bishop, Jr., a thirty year resident of Greater Sedona, is an author, free lance writer, editor and creative writing instructor who is also committed to grass roots organizing, arts advocacy and environmental sanity. Since leaving the nation's capital for the West two decades ago, he has served as a consultant to government agencies and non-profit organizations ranging from The RAND Corporation to the Grand Canyon Trust, The Aspen Institute at Wye Plantation to American Rivers and the Coconino National Forest, Sedona Ranger District and the Sedona Creative Life Center. His writing has appeared in newspapers and magazines from Seattle to Denver, Prescott, Arizona to Washington D.C. His book, "Epitaph for a Desert Anarchist – The Life and Legacy of Edward Abbey" is now in paperback.
Before moving west from D.C. and New York City in the early '80s, Bishop was a senior member of the White House Energy Policy and Planning staff responsible in 1977 for creating the nation's first comprehensive energy plan focused on the nation's renewable energy potential. A year later, he became Director of Communications for the Federal Energy Administration, Chief Spokesman for Energy Secretary James Rodney Schlesinger and Deputy Assistant Secretary for Intergovernmental and Institutional Relations. In 1980, Bishop received the Secretary's Medal for Outstanding Service that included an innovative energy conservation education program.
Nowadays, Bishop, the descendant of Nantucket whalers and the Delaware Indian Nation and the son and grandson of distinguished artists, is far from retirement in Sedona, creating screenplays, two novels and also advancing the cause of Sedona Recycles, Keep Sedona Beautiful, public art and Vision Sedona, the nonpartisan citizens group. His creative writing classes are ongoing at various Elderhostel locations, Northern Arizona University, and Yavapai College.
During his years here, he has produced renewable energy documentaries and contributed articles on a broad range of subjects including: Arizona Highways, the Los Angeles Times, Phoenix Magazine, California Academy of Science, Plateau Journal, Sedona Magazine, the late, lamented Sedona Excentric, and the online publication Sedona.biz. He has served as Chair of Sedona's Arts and Cultural Commission and is currently on the executive board of Keep Sedona Beautiful.
In 1993, Jim Bishop won the William Allen White Gold Medal presented by the University of Kansas for the best story in any city or regional magazine. The topic was the Glen Canyon Dam. The Arizona Press Club presented a similar award to him. Last year, the National Council on Problem Gambling presented Jim with first prize for his series of essays on the growing problems of compulsive gambling in Phoenix Magazine.
His books include "The Consumer Revolution – Let the Seller Beware," "Creating Abundance, A Different Energy Future," and the first biography of Cactus Ed Abbey. He also contributed to several books on the history of the Verde Valley. At present, he is at work on two novels and expecting to move into production with an original screenplay, "The Secret Warrior."
Down through the years Bishop has addressed such diverse groups as the American Petroleum Institute and the Sierra Club, The Friends of the Earth, the Phoenix Futures Forum and the National Coal Association.
Jim's career began with Newsweek Magazine in New York City in 1958 where he covered Wall Street. Later he became the magazine's West Coast correspondent with a focus on films, aerospace and politics and another special issue on the SST. From 1958 to 1977, he was Newsweek's Deputy Bureau Chief in the nation's capital. he covered Watergate, and wrote the first national cover stories on the looming energy and environmental dilemmas.
During his career, Bishop has profiled such diverse personages as Robert Kennedy and Howard Hughes, Hedy Lamar and Robert McNamara, Walt Disney and Ralph Nader.
Bishop was educated in New England and New York City, and has three grown children who are involved in public health, web development and design, and cyberspace.
He continues to believe in impossible things.