The Pink Nectar Cafe: Myths and Mysteries
The Pink Nectar Cafe is available at The Worm bookstore in Sedona Arizona and  on Amazon.com.  An e-Book version is available at Smashwords.com.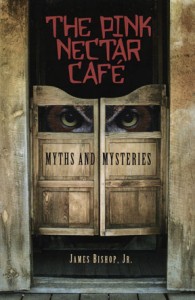 The Pink Nectar Cafe breaks new ground with modern tales of mystery and fantasy in the Southwest.
"In a collage woven from mystery and a pure sense of place, Bishop has created a home for all things western and unknown.  One can imagine these stories being told around campfires and passed down from generation to generation."
–Dr. Samantha Ruckman, Universtiy Writing Program, Arizona State University
"The Pink Nectar Cafe is traditional storytelling put into the written word by a wordsmith worthy of the title—a storyteller.  This book is not only fun, it is history."
–Steve Otto, Kansas City Storyteller
"This is the kind of book that we booksellers love.  It is both regional in topic and universal in scope, a book that not only contains much local color, but color painted on a much broader canvas.  In the spirit of Edward Abbey, Bishop's stories will be told and remembered."
–Joe Neri, Owner, The Well Red Coyote Bookstore, Sedona, Arizona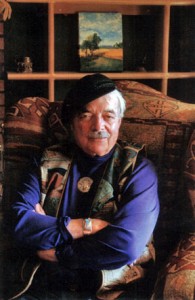 "Man, beast, culture, nature is by turns victim and hero, plagued by the twin nemeses of evil and indifference.  Each story in the collection stands on its own and reads like Connecticut Yankee in King Arthur's Court—on Peyote."
–Lisa Schnebly Heidinger, Arizona Author 
Five Star Reviews at Amazon.com:
A Master's Weaving of American Southwest Mysteries
November 29, 2011
By Diane Dearmore
"James Bishop, Jr. is a master weaver of words. In The Pink Nectar Café, a collection of American Southwest mysteries, he has masterfully interwoven his love of humanity, deep appreciation of nature, and inexorable curiosity of the mystical by plaiting them in a multi-layered tapestry of exquisite colors, rich textures all held together by golden threads of truth.
The golden threads of truth are expressed through Bishop's relationship with the Spirit of Owl. These truths expressed with Owl wisdom and historical prose, have a magic that lured me in, warping time, causing me to wonder, ponder and dream about what is possible….and to know again that everything is possible. 
Subtle and profound it is the Owl who presents the mystery of magic, silent wisdom and vision in the night. Owl is surrounded by myth and mystery. It is through the eyes of this silent observer, Owl, appearing first at the time of Bishop's mother's death that clearly is guiding Bishop in his American Southwest journey to this day. 
If I absolutely had to pick a favorite mystery in The Pick Nectar Café it would be "The Lady Who Blew the Whistle." This woman, previously a "…..well bred, gently raised gentlewoman, longtime museum donor and volunteer, had transformed herself into an activist, a combination of Shadow, Sherlock Holmes, and Mother Jones." It is just this kind of grit and Essence of Spirit that inspires me to have faith that humanity through the ages has and will continue to choose to live and stand in Grace. "
A tour through a land of enchantment and mystery
November 26, 2011
By M. Consol (Livermore, CA, United States) 
"The American Southwest – a place of the vast and mysterious open spaces, high deserts and carved valleys – is the canvas upon which author James Bishop Jr. renders "The Pink Nectar Café." Part memoir, part history lesson, part expose, it is a magical collection of stories about ancient and modern cultures.
Each story is prefaced with a quotation from the likes of Shakespeare, Sandburg, Frost, Thoreau, Bonaparte, Anais Nin. Each ends with the mantra, "Let the mystery be!" It's an ode to the richness of a life lived with more questions than answers.
Nowhere are the mysteries richer, more voluminous or meaningful than in the Southwest, a place where, by Bishop's reckoning, "the land and the imagination are forever merging."
When Bishop writes about the Southwest it becomes a painted desert, stark and electric, an enchanted, windswept land of shadowy dawns and psychedelic dusks. The author's writing is picturesque and emotional – leaden with an intense affection for a region he considers sacred.
His stories are studded with characters that are brave, principled, flamboyant. His characters are also places – a gambling casino, the Grand Canyon, a dying Arizona river, a supernatural café. The entire work is haunted by the friendly ghost of environmentalist Edward Abbey, whose biography, "Epitaph for a Desert Anarchist," Bishop penned years ago.
Some of the book's most tender moments are the author's intensely personal exchanges with his dying mother.
"The Pink Nectar Café" reminds us that, despite living in a country of great modernity, the Southwest is still untamed, a place where a wrong turn and the lack of a compass can turn a person into skeletal remains within hours.
Indeed, things have been known to vanish in this land, as was the case with the Anasazi Indians who inhibited and then apparently abandoned or where driven out of Chaco Canyon in northwest New Mexico, as chronicled by Bishop in the story titled "Chaco Canyon: Myth & Mystery." Archeologists and anthropologists speculate to this day about what caused the exodus or mystic rapture.
It is this respect for the esoteric nature of the Southwest that drives Bishop's narrative.
In an age when we mistakenly believe that a factual answer to any question is just a Google search away, "The Pink Nectar Café" supplies us with living history, a state of being where questions outnumber answers.
As the author would surely say, "Let the mystery be!""
I thought I knew Sedona
November 25, 2011
By Lisa S Heidinger (Arizona) 
"As great-granddaughter of the man who named Sedona after his wife, I've felt pretty good about my grasp of the lore of Oak Creek Canyon. But James Bishop caused me to re-think that with "Pink Nectar Cafe." From the first line of the book, with its evocative image of "Pinot Noir sipped by the light of a desert moon," Bishop had me where he wanted me: reading greedily, head full of romance and questions, wanting, even more than I wanted answers, to go there, see that, be part of this. I mourned his mother although I'd not met her; I wanted a photo of the enigmatic six-foot burial discovery. Reading spun off images of other addicts, saved and saving, reading about Helen. Every story meshed the hard realities of people I actually know, places I've walked, with spinoff curiosity about evil winds and the end of the Verde River. I'd forgotten about "man corn," developed even deeper appreciation of Abbey and Ruess, and wanted "just one more story" when I'd blazed through the bunch like popcorn I couldn't resist. The book entertained me, drove me crazy with curiosity, and left me a bit drunk on what-ifs. Bishop did more than entertain me while I read: he made me wonder long after I'd finished."
The beauty, truth and mystery of the American Southwest
November 18, 2011
"This wonderful book surprised me in so many ways. There was not one story that was predictable or obvious. 
Each little gem revealed an insight into the mysterious landscape, the intriguing inhabitants, and last but not least, the moving passion the author has for this glorious land. His respect for all his subjects shows a great talent for 'listening.' I long to revisit the southwest again after reading 'The Pink Nectar Cafe' (and I intend to search for it myself)."
James Bishop, Jr., is an award-winning writer known for his books, stories and newspaper articles.  Ever since he was a small boy growing up on a farm in New York State, he remembers the stories told by old Tom, the Irish farm hand who first fired him with the power of the imagination.  At twilight, Tom would light up his gnarled corn cob pipe, wave it at the deep woods in the distance, and ask, "Do you hear them, lad…the little people are coming out to dance and drink.  Do you hear them?"
I didn't then, but now I do.